HENDRIKS CAFE FEATURED IN
GOOD FOOD'S LIST OF MELBOURNE'S TOP 50 CAFES FOR 2016!
Hi there!
We are Lee and Chloe, we live in Mordialloc.
For years it's been Lee's dream to open a cafe and we've decided to turn his dream into reality a.k.a Hendriks Cafe!
We want to highlight some of the best of the south side while bringing some of that north of the river flare down this way.
Together with Head Chef Adam Owen and Sous Chef Tom Crosswell, we think we've created something really unique in Mordialloc.
We're very excited to contribute to this fantastic community, and create a space you love to visit.
See you soon,
Lee and Chloe
Our specials change fortnightly
– current specials available as of 26.08.16 –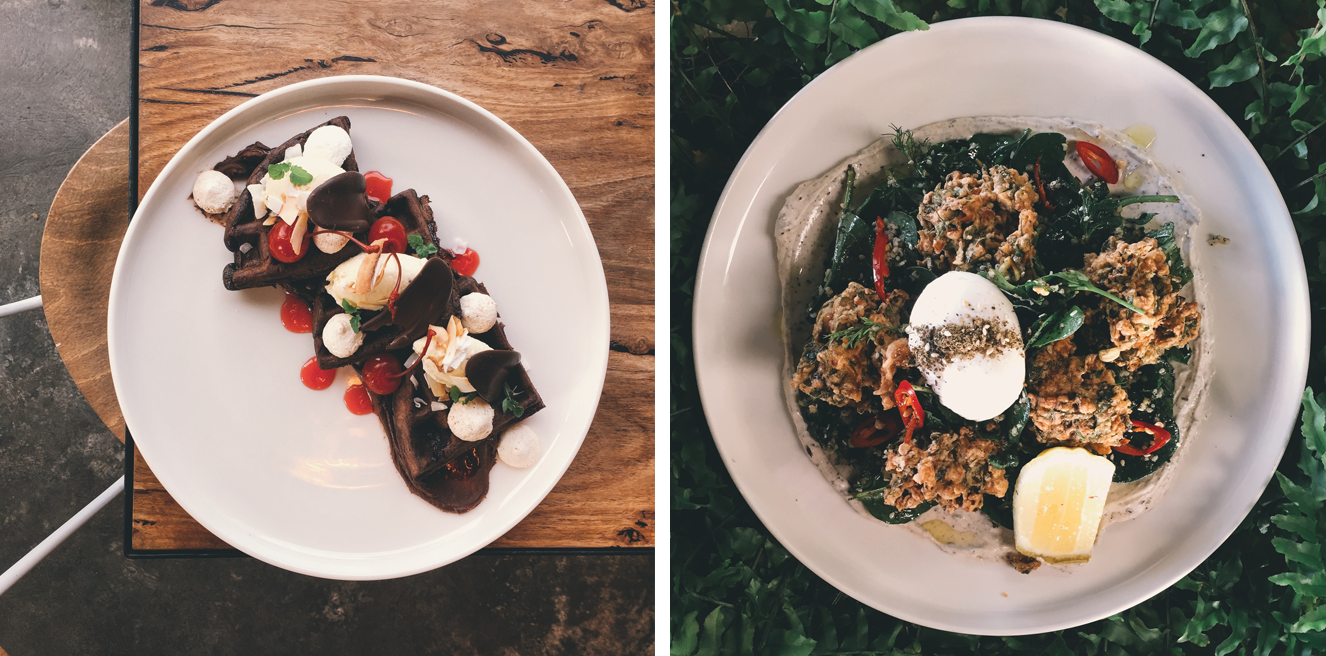 CHERRY RIPE WAFFLES
Textures of chocolate, coconut & cherries
$17.00
WINTER FRITTERS
Chickpea & silverbeet fritters with dukkah spinach,
spiced yoghurt & a poached egg
$18.00

MILKSHAKE
The Violet Beauregarde
$10.00

COLD PRESSED JUICE
Apple, cucumber, parsley, lemon & spinach
$8.50
RAW FOOD SMOOTHIE
Banana, raw cacao, cinnamon, oats, dates, four protein & almond milk
$10.50
SERVED UNTIL 3PM
Please speak with your waiter regarding
any allergy & dietary requirements.
THE SIDES
Relish, Pickles, Extra Egg
$2.50
Tomato, Spinach, Mushroom, Crushed Avocado, Pancetta
$3.50
Bacon, House Made Ricotta, House Hot Smoked Salmon
$4.50
THE BOYS
All Po'Boy baguettes dressed with house slaw,
pickle & chipotle aioli (nf)
CRISPY BUTTERMILK CHICKEN
BBQ PULLED PORK
SOUTHERN WHOLE SHRIMP
$14.00
(gfa) gluten free available / (lfa) lactose free available / (gf) gluten free
(v) vegetarian / (nf) nut free / vegan
Black / White – $3.80
Cold Brew – $5.00
Iced Latte – $4.50
CCD Filter Coffee – $5.00
Large Coffee  – $4.80
Triple Shot – Extra 50C
Bonsoy Milk – Extra 50C
Almond Milk – Extra $1.00
Babycino – $1.00
SHAKES
Chocolate // Malt // Mixed Berry
Peanut Butter // Salted Caramel // Vanilla Bean
SM $4.00 // LG $7.00
Open daily from 7am – 4pm
Drop by for a coffee or bite to eat
105 – 107 White Street Mordialloc
Victoria, 3195
Phone: (03) 9021 8980
Sorry, we are unable to take bookings

Email: hello@hendrikscafe.com.au